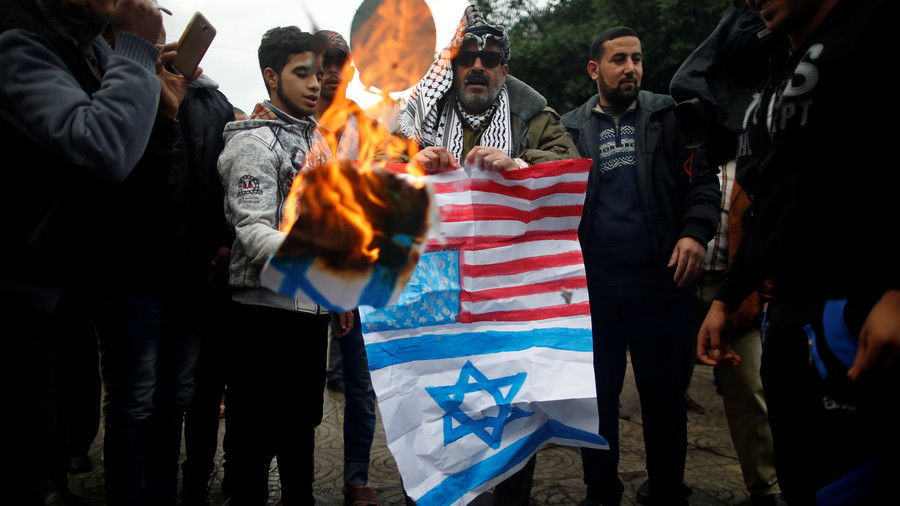 Palestinians burn signs depicting an Israeli flag and a U.S. flag during a protest in Gaza City on 6 December, 2017 © Reuters/Mohammed Salem
President Donald Trump

's decision to recognize Jerusalem as Israel's capital has received global condemnation. Hamas has called for an intifada against Israel Thursday, as schools and shops are closed in the West Bank.
*
READ MORE: 'Declaration of war': Trump's Jerusalem decision lights Middle East powder keg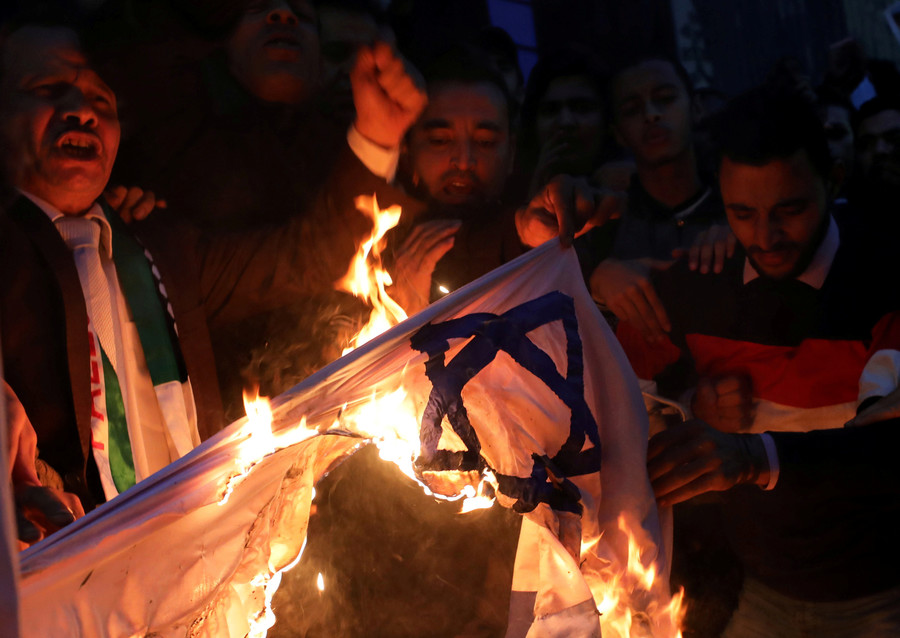 People shout slogans against Israel while burning a makeshift Israeli flag during a protest against Trump's Jerusalem declaration, in front of the Syndicate of Journalists in Cairo, Egypt December 7, 2017. Mohamed Abd El Ghany / Reuters
17:01 GMT

The Israeli Defense Forces says the two rockets launched at Israel from the Gaza Strip did not cross into Israeli territory.

16:44 GMT

An Israeli app which monitors sirens has registered rocket fire into Israel near the Gaza strip. The IDF says while there has been no confirmation of a hit, a red alert has been enabled in the settlement Hof Ashkelon.

15:48 GMT

Palestinian President Mahmoud Abbas criticized Trump's decision as an "unacceptable crime" before praising the nations which have denounced the move.

"Fortunately, there was a positive response from all the countries in the world, from Europe and from Africa and countries close to America that don't support the US," said Abbas, at a meeting with the king of Jordan Thursday, reports AP.

"These all are messages to Trump that what he did is an unacceptable crime," he said, adding that Palestine is rallying Arab support before they deliver a formal response.

15:36 GMT
It's been a day of clashes across the West Bank as Palestinians and Israeli soldiers faced off on the streets. Tear gas, as well as live and rubber bullets, have been deployed, leaving dozens injured.

15:01 GMT

The number of people injured by the Israeli army has risen to at least 31. Several Palestinian protesters were wounded by army gunfire and rubber bullets during clashes in the West Bank and Gaza Strip Thursday.

In Hebron and Al-Bireh, thousands of demonstrators rallied with chants of "Jerusalem is the capital of the State of Palestine," witnesses said. Protesters could be seen throwing stones at soldiers. As night falls, the region remains on edge.
A Palestinian man prays during clashes with Israeli troops at a protest, near the Jewish settlement of Beit El, near the West Bank city of Ramallah December 7, 2017. Mohamad Torokman / Reuters
14:57 GMT
Israeli Jerusalem Affairs Minister Ze'ev Elkin said Russia should follow the US' example and move its embassy from Tel Aviv to Jerusalem. Russia has stated that it sees Jerusalem as the capital of Israel, so the move would be natural, he told RIA Novosti.
Moscow believes that Jerusalem should be divided between Israel and a future Palestinian state, with both nations considering the city their capital, and does not recognize Israel's occupation of Eastern Jerusalem. The Russian Foreign Ministry believes its embassy in Israel should be moved only after the conflict over the status of the city is resolved.