By Pamela Geller
It has always been painfully obvious that disgraced

FBI deputy director Andrew McCabe

didn't resign over text-gate or "Trump and Republican criticism". Now it all makes sense. Former Deputy Director of the Federal Bureau of Investigation, Andrew McCabe altered far left FBI investigator

Peter Strzok

's notes on his interview with

General Michael Flynn

. And then McCabe destroyed the evidence.
FYI: A FD-302 form is used by FBI agents to "report or summarize the interviews that they conduct" and contains information from the notes taken during the interview by the non-primary agent. It consists of information taken from the subject, rather than details about the subject themselves.
There has been rumors 'independently' from Sara Carter and others that FD-302s May have been altered and she pointed out it may be McCabe that told others to do it. This was heard right on the day he stepped down. They didn't say to whom they were altered against if it was true but this possibly lines up with this! If true then Flynn plea will be rescinded and charges dropped and possibly Mueller team will be in trouble if they KNEW that these 302s were changed and didn't informed Flynn until they were forced to by the new judge, Sullivan
Both parties did not 'request' a postponement; both parties 'agreed' to a postponement.  The motive for the request (Mueller) is entirely divergent from, yet complimentary to, the motive to agree to the request (Flynn).
This is all beginning to go backwards.
It is not coincidental that Brandon L Van Grack is the signatory to the delay request by Special Counsel Robert Mueller's request to the new Judge, Emmet G Sullivan.
If, as has been reported, Inspector General Michael Horowitz now has evidence the FBI manipulated their FD-302 (interrogation and questioning) documents, as also admitted by FBI agent Peter Strzok in related matters regarding Clinton…
…. and those manipulated or falsified FBI 302's (containing FBI investigative notes of Michael Flynn's questioning during the January 2017 interview), were used in the actual Flynn charging documents.
Well, then the underlying evidence presented to the initial judge, Ruben Contreras, in the December 1st plea hearing, were materially misrepresented.
With the IG exposing falsified and manipulative investigative practices by the FBI, Mueller would have no alternative but to throw the brakes on.  This whole thing is turning into a sh*t-show of epic proportions. EARLIER WE DISCUSSED
The Robert Mueller lawyer, the Special Counsel attorney that signed General Flynn's Statement of Offense filed in U.S, District Court 12/1/2017 was "Brandon L Van Grack". [See page #5]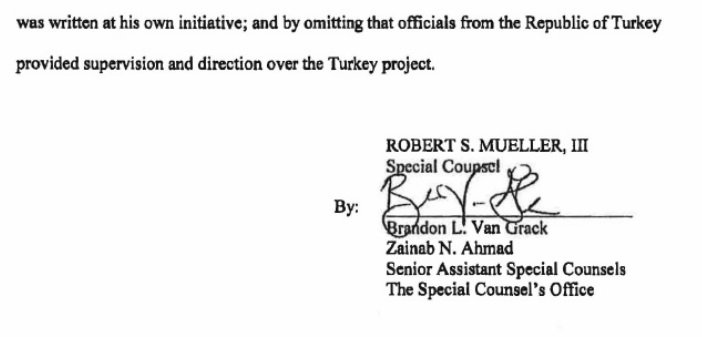 When Trump transition team lawyer Kory Langhofer (Trump for America transition organization) contacted the special counsels office about the illegal and unethical way they retrieved transition team emails from the GSA. Who was he put in contact with?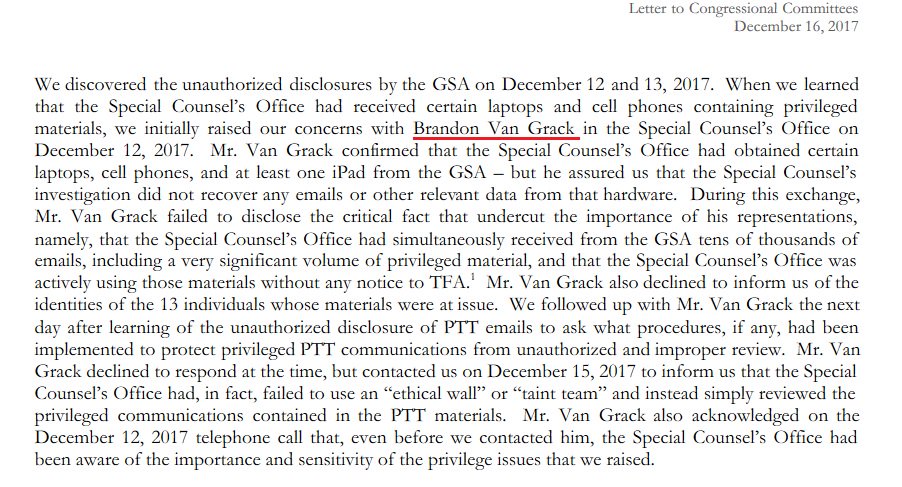 It was Brandon L Van Grack who was in communication w/ the Trump for America transition organization; and, according to the documents on this topic (attached), misrepresented (ie. lied about) the Special Counsel access to the GSA emails on 12/12/2017. (Pdf Link)
Questions: A) What reason would Van Grack have for taking the call from the transition attorney in the first place? and then, B) what reason would he have for lying about the information that was requested?
It is my belief, based on mounting evidence, a specific cast of characters -within the Mueller "Russia Election Interference" probe- were placed there to protect the people behind the FBI's 2016 counterintelligence operation against Trump.
I suspect the same FBI and DOJ "small group", the team who worked diligently to ensure Hillary Clinton was never found culpable in the 2015/2016 email investigation, later worked on the 2016 Trump counterintelligence operation (FISA wiretapping surveillance etc).
That same "small group" within the FBI and DOJ were then given the task in 2017 of covering both prior operations: A) *Clear Hillary Clinton, and B) *Counterintel op on Trump.
To cover, cloud and protect the DOJ and FBI officials engaged in both operations, the "small group" is now assembled within Robert Mueller's Special Counsel team.
Inside Mueller's crew, the "small group" essentially works to watch over what information the Trump officials or congress could possibly be discovering…. under the auspices of investigating 'Muh Russia' etc.
If the "small group" comes across a risky trail being followed, they work to impede, block, delay or deflect anyone from that trail.
That's why the Special Counsel attorney that signed General Flynn's Statement of Offense filed Dec. 1, 2017, was the same attorney who responded to the Trump transition team inquiry. Brandon L Van Grack.
This "small group" are essentially career DOJ and FBI staff lawyers behind and beside the visible names we have recently become aware of: Peter Strzok, Bruce Ohr, Lisa Page, Bill Priestap, Andrew McCabe, Sally Yates, James Baker etc.