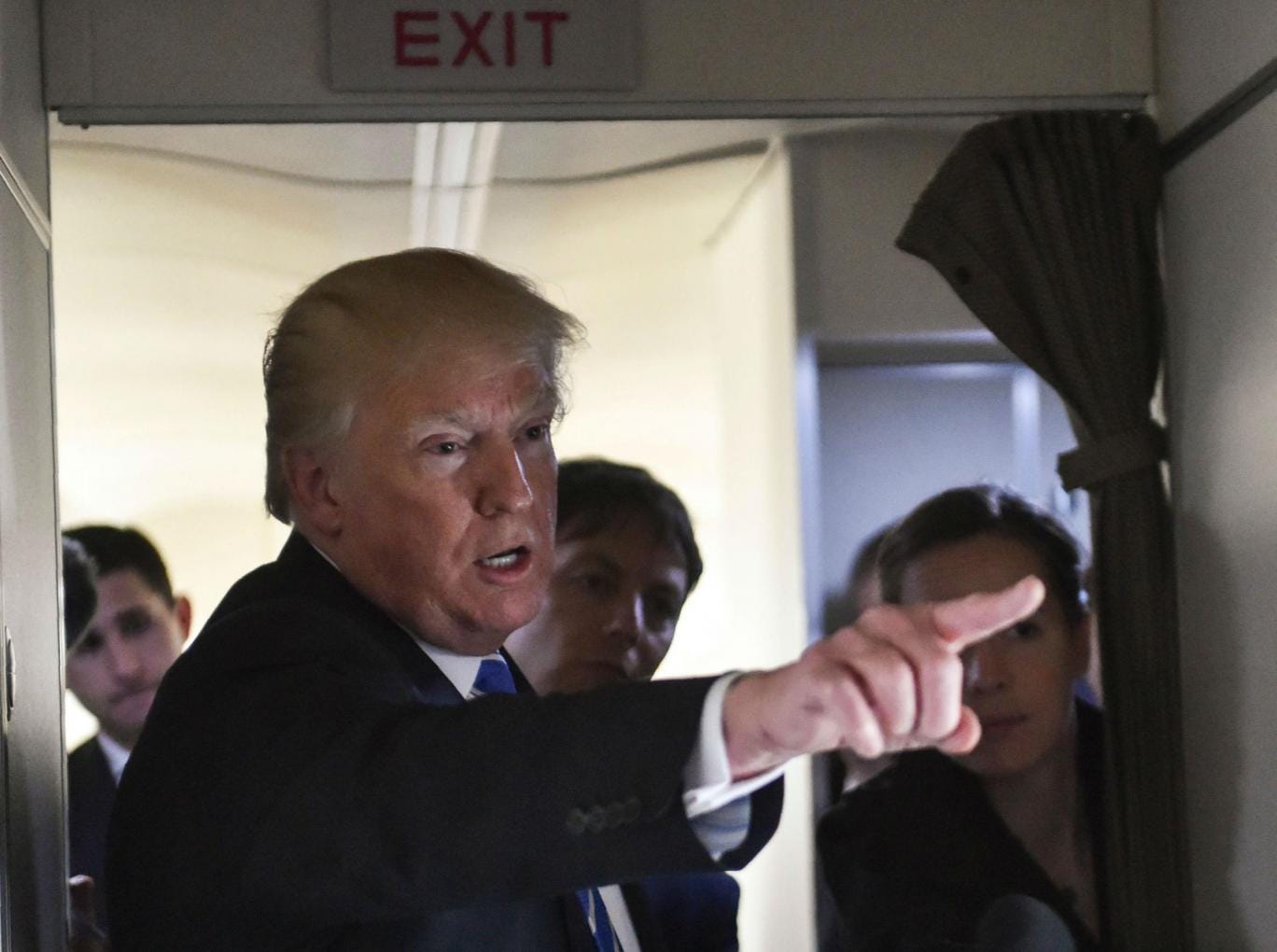 Mr Trump announced the figure while returning from an event in West Virginia Getty
By Andrew Buncombe
President Donald Trump has said that he wants to send between 2,000 and 4,000 National Guard members to the US-Mexico border and keep them there until the wall he wishes to build is completed. 
Speaking to reporters as he flew back from event in West Virginia, Mr Trump was asked how many troops would be dispatched to the four states that border Mexico.
"Anywhere from 2,000 to 4,000," he said. "We'll probably keep them or a large portion of them, until the wall is built."
Mr Trump's comments came a day after it was announced he had signed an order to deploy National Guard troops to help "protect" the border with Mexico.
"It's time to act," said Kirstjen Nielsen, the secretary of homeland security, speaking to reporters at a White House briefing. "We do hope the deployment begins immediately. We're working with all haste."
In the memo signed Mr Trump on Wednesday evening, the president called on the Defence Secretary Jim Mattis to "request use of National Guard personnel" to secure the border and said the homeland security secretary would with him to train and direct the troops.
"The security of the United States is imperilled by a drastic surge of illegal activity on the southern border," he wrote.
"During the administrations of Presidents George W Bush and Barack Obama, the National Guard provided support for efforts to secure our southern border. The crisis at our southern border once again calls for the National Guard to help secure our border and protect our homeland."
Speaking on Air Force One Thursday, Trump gave his first estimate on guard levels. He also said he hoped they would stay there until the wall he wants to be built on the border is completed. Asked about the cost, he said his administration was looking at it.
Mr Trump campaigned for the presidency with a promise to build a wall on the border to stop illegal migration. The issue of immigration to the country became one of the central themes of his campaign and since entering the White House, he has ordered a crackdown on illegal migrants and signed an executive order making it more difficult for citizens from a group of countries to enter the US.
He has repeatedly asked Congress to provide funds to build a wall but he has met with limited success. In the $1.3 trillion mega-budget he signed last month, he was given $1.6bn for border security. It is unclear how much of that is for a physical border.
On Thursday, Mexican President Enrique Pena Nieto delivered a sharp rebuke to Mr Trump's plan, urging him not to thrust Mexico into US domestic politics.
"If your recent declarations are due to frustration over issues to do with internal policy, your laws, or your Congress, direct yourself to them, not to Mexicans," a stern-looking Mr Pena Nieto said in an address to the nation, according to Reuters.
Mexico's Senate and the country's leading presidential candidates have all condemned Mr Trump for his border plans in recent days, and Mr Pena Nieto said he agreed with all of them.