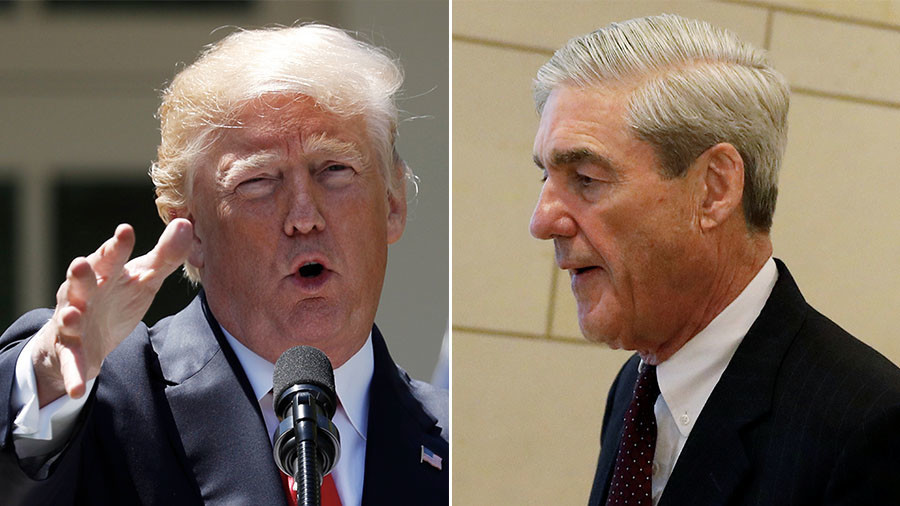 After a list of questions

Special Counsel Robert Mueller

apparently has for

Donald Trump

was leaked, the president hit back on Twitter, calling the act "disgraceful". The bizarre publication has sparked interesting theories.
"So disgraceful that the questions concerning the Russian Witch Hunt were "leaked" to the media," Trump tweeted Tuesday morning. "No questions on Collusion. Oh, I see…you have a made up, phony crime, Collusion, that never existed, and an investigation begun with illegally leaked classified information. Nice!"
The list of questions, published by the New York Times on Monday evening, is extensive, and often bizarre.
The special counsel reportedly wants to ask Trump about Russian real estate developments, his opinion on meeting Russian President Vladimir Putin, his knowledge of "Russian hacking," and his discussions on President Barack Obama's Russia sanctions.
Mueller reportedly wants to ask: "What knowledge did you have of any outreach by your campaign, including by Paul Manafort, to Russia about potential assistance to the campaign?" None of the charges against Manafort actually relate to Russia or alleged collusion between Trump and Moscow.
The leak comes after the US House Intelligence Committee released a report Friday officially confirming there was no collusion between the Trump campaign and Russia in the 2016 US presidential election.
Trump again blasted the investigation and its relentless search for collusion and obstruction of justice. "It would seem very hard to obstruct justice for a crime that never happened!" read a second tweet from the president on Tuesday. "Witch Hunt!"
Many of Mueller's questions center around Trump's interactions with former FBI Director James Comey, whom the president fired last year. More seek to pinpoint obstruction, and Mueller reportedly wanted to ask Trump about his plans to fire him.

Another question reads: "What consideration and discussions did you have regarding terminating the special counsel in June of 2017?"
In a curious twist, a CNN analyst who used to work for Mueller said on Tuesday that he believes the interview questions were leaked to the NYT by Trump's own team. He told CNN that the questions' wording and grammar indicate that they did not come from someone with a legal background.
"Because of the way these questions are written… lawyers wouldn't write questions this way, in my estimation. Some of the grammar is not even proper," said Michael Zeldin, the analyst. "So, I don't see this as a list of written questions that Mueller's office gave to the president. I think these are more notes that the White House has taken and then they have expanded upon the conversation to write out these as questions."
Mueller has long angled for an interview with Trump. While the president has previously indicated he is amenable to an interview, nothing has thus far been arranged. Former New York Mayor Rudy Giuliani recently joined Trump's legal team, with a view to deciding whether or not to schedule such an interview.
John Down, one of Trump's attorneys, quit his post in March. Dowd had been strongly opposed to the idea of an interview, and had attempted to talk the president out of a face-to-face meeting with Mueller, despite Mueller telling Down in March that Trump was not a target of his investigation.
Mueller's investigation is ongoing, despite failing to turn up any evidence of collusion between Trump's campaign and Russia over a year after it began.